Introduction 
In the dynamic realm of modern business, organizations are perpetually in pursuit of efficient workflow management solutions. One such popular approach that has gained significant traction is Kanban. Initially developed by Toyota as a lean manufacturing method, Kanban has transformed into a versatile framework applicable across various industries. This blog post delves into the core principles of Kanban, its genesis, and how it can revolutionize the way teams handle their work processes.
1. Unearthing the Genesis and Essential Tenets of Kanban 
Kanban, derived from the Japanese terms for "visual signal" or "card," was first introduced by Toyota in the 1940s as a scheduling system for manufacturing processes. Its purpose was to optimize production by minimizing waste and ensuring a seamless workflow. At the heart of Kanban lies the concept of visually representing work items using cards or signals.
In the Kanban framework, each work item finds its manifestation on a Kanban board, typically comprised of columns representing distinct workflow stages. This visual aid enables teams to have a clear overview of their work, identify bottlenecks, and maintain a consistent flow of tasks. The work items are represented by cards that progress across the board, moving from one column to the next as they advance.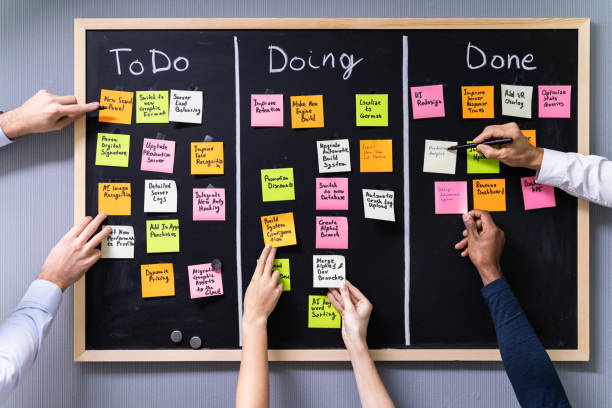 2. Key Principles Guiding Kanban 
Kanban operates on a set of fundamental principles:
a) Visualizing the Workflow: The primary principle of Kanban is to visualize the workflow. By providing a transparent representation of the work process, teams gain insights into the status of each task, identify dependencies, and track progress effortlessly.
b) Limiting Work in Progress (WIP): Kanban places great emphasis on limiting the number of ongoing work items at any given time. This constraint prevents overburdening and ensures that teams focus on completing tasks before commencing new ones. By minimizing multitasking, teams can enhance efficiency and reduce lead times.
c) Managing Flow: Maintaining a smooth and continuous flow of work items lies at the core of Kanban. Teams strive to minimize waiting periods, overcome bottlenecks, and mitigate disruptions, thereby optimizing productivity and diminishing cycle times.
d) Explicit Policies: Kanban encourages teams to establish explicit policies governing their work processes. These policies outline rules and guidelines for each stage of the workflow, fostering consistency and clarity among team members.
3. Benefits Unleashed by Kanban
Organizations implementing Kanban can reap several benefits:
a) Augmented Visibility: Kanban provides real-time visibility into the status of work items, enabling team members and stakeholders to track progress, identify obstacles, and make informed decisions effortlessly.
b) Enhanced Efficiency: By imposing limits on work in progress, Kanban enables teams to concentrate on completing tasks instead of initiating new ones. This focus amplifies productivity, reduces context switching, and enhances overall efficiency.
c) Increased Flexibility: Kanban exhibits remarkable adaptability, making it suitable for diverse industries and workflows. Its flexible nature empowers teams to tailor the framework to their specific needs, rendering it viable for both small teams and large organizations.
d) Continuous Improvement: Kanban fosters a culture of continuous improvement. By regularly scrutinizing the flow of work, teams can identify areas for optimization, experiment with process alterations, and continually refine their workflows.
Conclusion
Kanban offers a potent framework for managing workflows in a visual, efficient, and adaptable manner. By visualizing work, limiting work in progress, managing flow, and establishing explicit policies, teams can streamline their processes and achieve elevated levels of productivity. Whether in software development, project management, or any other industry, Kanban empowers organizations to optimize their workflows, minimize waste, and
 deliver value to customers with greater efficacy. Embracing Kanban marks a pivotal step toward adopting an agile and responsive approach to work, enabling teams to thrive in today's ever-evolving business landscape.